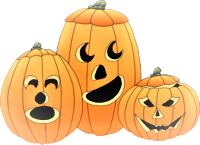 Our new library Story Walk installation is ready for viewing from October 27th through the 31st. We are offering a special humorous Halloween story, "The Hallowiener" by Dav Pilkey.
Stop by our outdoor stations on the south side of the library to enjoy a walk and reading. Begin your storywalk near the Reading Garden and then afterwards head over to the curbside table for a special Halloween treat (available during regular curbside hours).
(Special thanks to Harrison Brinton for creating the storywalk as his Eagle Scout project).