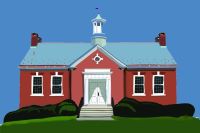 Curbside Pick Up Hours
Tuesday/Wednesday/Thursday 12 – 6
Friday 2-5
Saturday 12-4

And Starting March 5 – Expanded Hours!
You may put a book on hold in our online catalog, or call the library 203-393-2103 to request a title. We will let you know when your request is ready to be picked up – usually within 24 hours.
A bag with your name will be waiting in our entryway on a special table near the double doors. Per Governor Lamont's recommendations, we ask that you please wear a mask and observe social distancing guidelines while on the sidewalk, and only one person at a time in the entryway area. The building will not be open.
Books and other materials may be returned to the bookdrop in the usual way.
Please note that all books are quarantined for one week when returned, before being put back on our shelves. We will also add the date to the pick up bag if you would prefer to quarantine at home as well before reading. There are no fines incurred for books that are being processed and quarantined after return.
Questions or comments? Call us to ask – or send an email to our main desk at ClarkMain@bethanylibrary.org