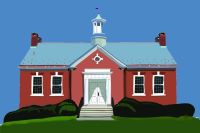 Building and Curbside Hours
Tues/Wed/Thursdays 10 AM – 6 PM
Fridays 2 – 5 PM
Saturdays 12 PM – 5 PM
You may put a book on hold in our online catalog, or call the library 203-393-2103 to request a title. We will let you know when your request is ready to be picked up – usually within 24 hours.
A bag with your name will be waiting in our entryway on a special table near the double doors. Per Governor Lamont's recommendations, we ask that you please wear a mask and observe social distancing guidelines while on the sidewalk, and only one person at a time in the entryway area.
Books and other materials may be returned to the bookdrop in the usual way.
If you enter the building, please remember to wear a mask. If you forget yours, we always have extras near the entry doors.
Questions or comments? Call us to ask – or send an email to our main desk at ClarkMain@bethanylibrary.org