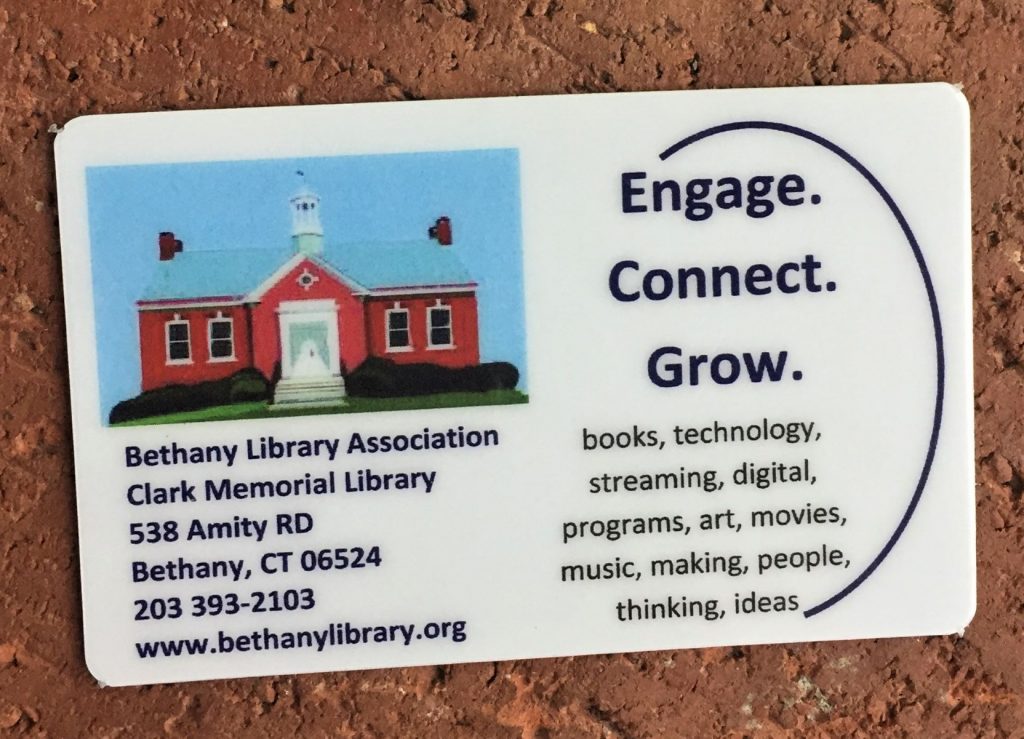 All town residents are invited to obtain a free library card to access print and digital materials.
---
Please visit us during regular hours to apply for new cards. For renewals of existing cards contact us at ClarkMain@bethanylibrary.org or call 203-393-2103. The card is valid for five years and is renewable. Your Clark Memorial card may be used in any public library in Connecticut.
LOAN PERIODS
21 Day Loans (holds allowed, two renewals)
Books (including new titles)
Audiobooks (CD)
Puzzles
7 Day Loans (holds allowed, two renewals)
Adult and Children's DVDs
14 Day Loans (no holds)
3 Day Loans (holds allowed)
The Library does not have overdue fines, but we are always happy to take items back on or before due dates – it means others can get those items even sooner!
RETURNS
Books may be returned inside the building or in one of our book drops next to the double doors at the side of the library.
AUTOMATIC RENEWALS
A courtesy email is sent out ahead of the due date, for checked out items. All eligible items will automatically renew.
Items will not renew if:
There is a hold on the item.
The item has reached its maximum allowable renewals (2).
The library account is blocked because it has expired or has billed fees (lost items) that exceed 25.00.
It is an item not eligible for renewals.