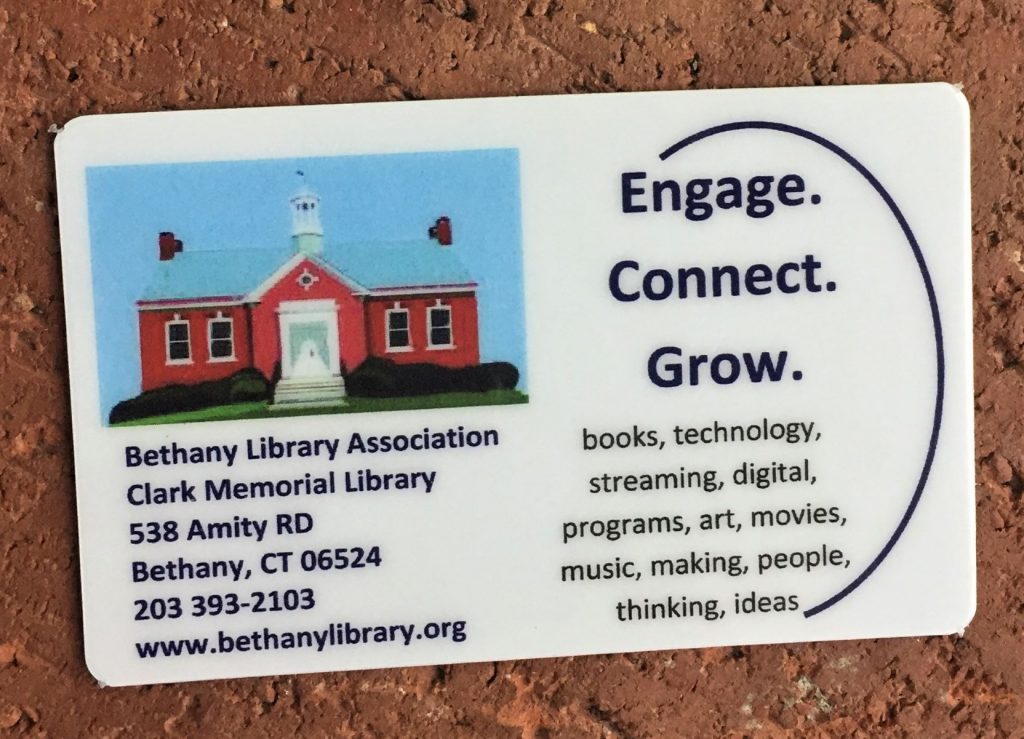 All Bethany residents are invited to obtain a free library card to access print and digital materials.
---
Please visit us during open hours to get a Clark Memorial Library card.
You will need to fill out a Library Card Application (copies of which are available at the Library) and provide a valid ID and/or another form of proof of address. Current Bethany residents must provide one form of ID or proof of address. Connecticut residents from other towns that want to be added to our system must provide a valid library card from their home library and two forms of ID or proof of address. Examples of valid IDs and proofs of address include driver's licenses, state IDs, recent postmarked mail, and recent bills/bank statements.
Your library card is valid for five years, and can be renewed on request.
To renew an existing card, you may visit the Library in person, email us at ClarkMain@bethanylibrary.org, or call (203) 393-2103. You will be required to place a sticker indicating that the card has been renewed on the back; if the card has been renewed via email or phone call, this sticker will be mailed to your listed address.
Your library card can be used at any public library in Connecticut.
It also allows you to access your Library Account in order to place books on hold, create reading lists, view your reading history, and more. Click here to watch a short video that explains how to log in to your Library Account, and provides an overview of the other resources available through it and how to use them.
LOAN PERIODS
21 Day Loans (holds allowed, two renewals)
Books (including new titles)
Audiobooks (CD)
Puzzles
7 Day Loans (holds allowed, two renewals)
Adult and Children's DVDs
14 Day Loans (no holds)
3 Day Loans (holds allowed)
RETURNS
Books may be returned inside the building, or in one of our book drops to the right of the double doors at the side entrance of the Library.
The Library does not have overdue fines, but we are always happy to take items back on or before due dates – it means others can get those items even sooner!
AUTOMATIC RENEWALS
A courtesy email is sent out ahead of the due date, for checked out items. All eligible items will automatically renew.
Items will not renew if:
There is a hold on the item
The item has reached its maximum allowable renewals (2)
The library account is blocked because it has expired or has billed fees (lost items) that exceed $25.00
It is an item not eligible for renewals

Clark Memorial Library is a participant in the borrowIT CT library resource sharing program. This means that residents of any town in Connecticut with a valid library card from their home library can be added to our system by following the steps outlined above, and check out the same materials available to local patrons.